Multi-award-winning HR software for large businesses
Manage multiple teams with ease using BrightHR's simple and secure online system.
Plus, get expert support to help you master recruitment, team training and business analysis.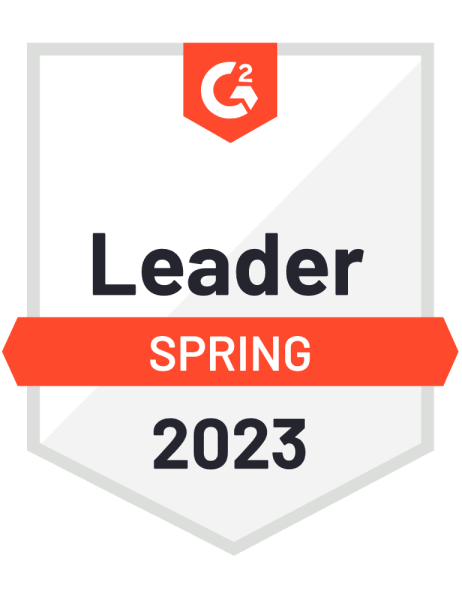 Watch as Sam Tunney explains BrightHR's Prime package
Join the 100,000+ businesses that trust BrightHR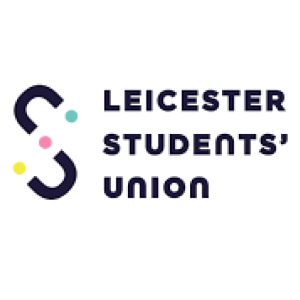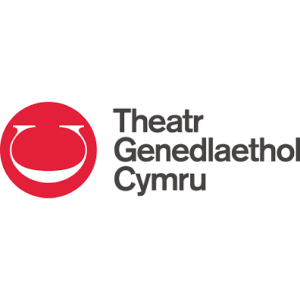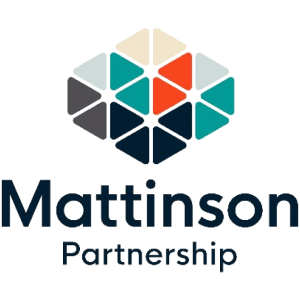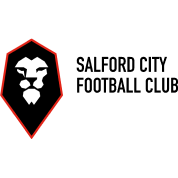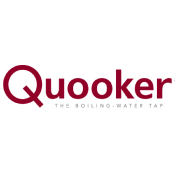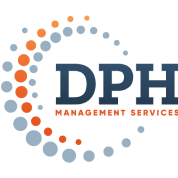 How BrightHR supports you…
Quick and consistent team management
Align your HR processes across all teams with BrightHR's expert online software.
Manage staff holidays, log sick days, plan shifts and rotas, record staff work hours, and hire, onboard and retain top talent—all in one secure online location.
Find out more
One-on-one set up support
Whether you're a first-time user or switching systems, we do everything we can to make starting with BrightHR as seamless as possible.
From helping you set up user permissions to entering your staff data, our team of software specialists are by your side every step of the way.
Engage and communicate with your people
Connect with your employees in a click using BrightHR's range of expert communication tools.
Send company-wide notifications, share confidential documents securely, and view read receipts on important training files—all from your desktop or mobile.
Superior security standards
Enjoy the highest level of security with BrightHR. Set up user permissions for your team, log in with two-factor authentication, and rest easy knowing that the ICO guidelines are being followed.
Features tailor-made for your organisation
Unlimited HR support for your entire business
Protect your company from costly HR mistakes with BrightAdvice.
Our 24/7 helpline gives you direct access to qualified HR specialists. Get up-to-date advice on a variety of HR topics, including:
Employee conduct.

Sick pay.

Staff training.

Recruitment and retention.

Disciplinaries.

Redundancy management.

Plus, loads more.
And as you've got unlimited access to our service, you can call as many times as you like.
So, whether you need urgent employment law support or simply want a second opinion on an important HR decision, our team of experts are ready to take your call—24 hours a day, 7 days a week.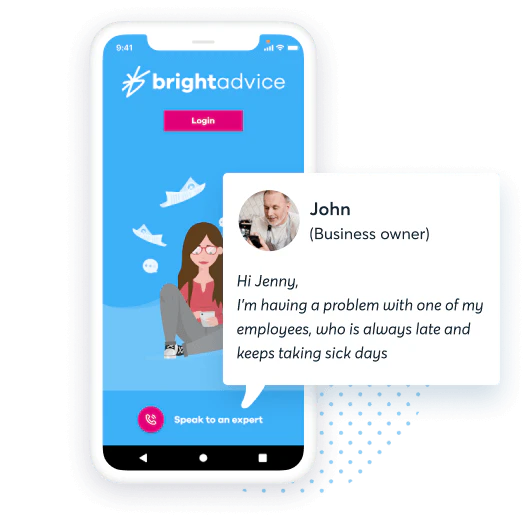 Track multiple teams over several sites
Need an easier way of tracking your employees' work hours? Get Blip.
It's an exclusive mobile clocking app that puts your staff in control of recording their own work hours—saving your managers time, effort, and precious headspace.
Blip comes with clever geolocation tracking to help you see when your staff are working and where. It's ideal for managing field workers, hybrid staff, facility management teams, and your regular office crew.
Plus, with Blip keeping a record of payable hours and overtime worked, you can run a quicker and smoother payroll process by downloading our easy-to-read reports.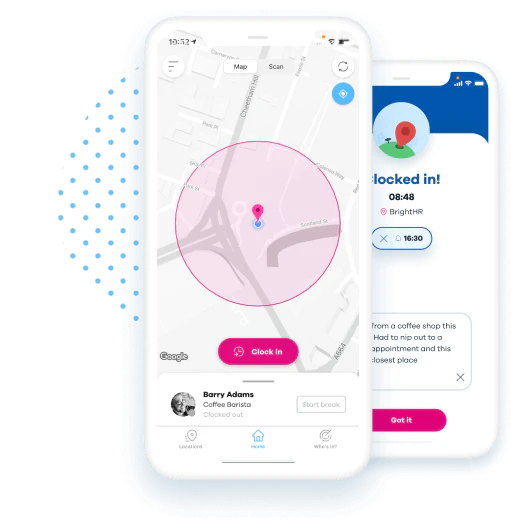 Identify problematic business trends with ease
BrightHR gives you easy access to Management Information (MI) data on staff absence, working hours, overtime, payroll, vaccinations, staff turnover and retention, and much more.
Use these reports to give you peace of mind, make improvements to your policies and procedures, and quickly tackle any problems within your business such as regular absence or high staff turnover.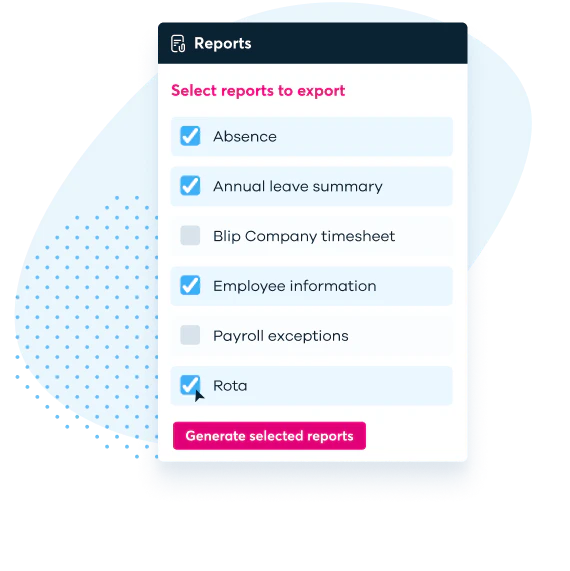 Enjoy business-wide health & safety support
Control health & safety risks in your business with BrightSafe, our complete health & safety service. Here's how it helps you:
Track real-time hazards and accidents across multiple sites with the BrightSafe On The Go app.

Educate staff on the latest H&S laws with BrightSafe's extensive range of e-learning courses, which are CPD-accredited and assured by RoSPA qualifications.

Give your H&S representative access to confidential information and allow them to review health & safety tasks in a tap.

Speak to trained health & safety experts in an instant with our 24/7 helpline. Get quick answers to niggling questions or in-depth advice to help you prepare for HSE inspections.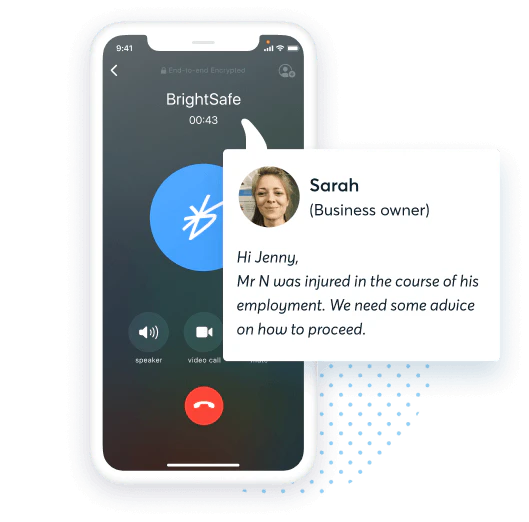 Develop and empower your employees to be the best
It's more important than ever to invest in the growth of your people. And that's where the People Navigator comes in.
With our exclusive online tool, you get a robust Human Resources Development (HRD) programme to help you train employees, increase business value, and reduce the attrition rate of your top talent.
You get clear onboarding frameworks to help you engage new employees, so they can settle into the business and start adding value as soon as possible.
Plus, there's a wide range of exclusive guidance to help you manage employee career development, improve working relationships, and develop a positive company culture.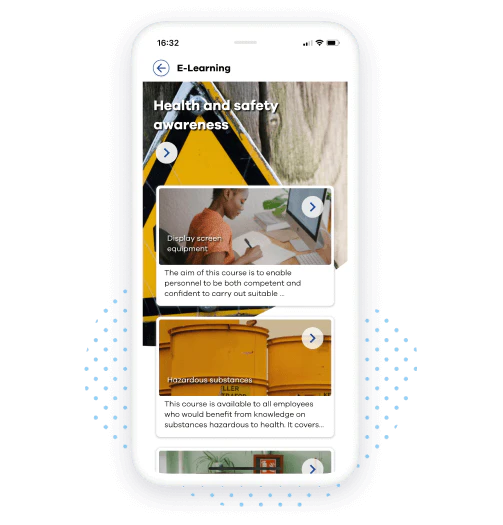 Manage multiple vacancies seamlessly
Streamline your entire recruitment process from start to finish with the Turbo Talent Navigator.
Manage multiple vacancies in bulk, view a record of all your filled and current vacancies, and access expert recruitment resources—all in one central hub.
BrightHire lets you add numerous job listings, attach key documents, and smoothly move candidates through each stage of the hiring process. When you're done, simply mark the position as filled and onboard them directly into the relevant team in BrightHR.
And, if you ever need to make tough decisions about your workforce, BrightHire is here to safely guide you through the redundancy process.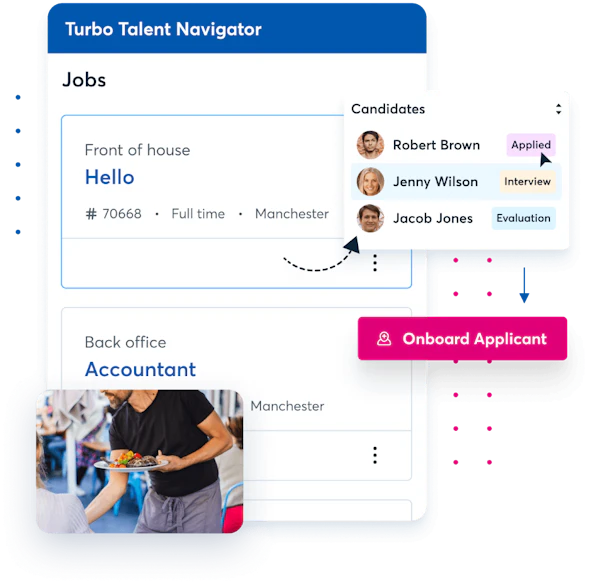 Consistent and confidential employee wellbeing support
Want a happier, healthier workforce that's more productive? Boost employee morale with Bright Wellbeing & Counselling.
It's Ireland's leading Employee Assistance Programme (EAP) and it supports your staff with a 24/7 mental health helpline, a handy mobile app for wellbeing support on the go, and quick access to face-to-face counselling sessions.
Plus, with detailed Management Information to track and analyse your company's wellbeing trends, and on-site coaching to improve your internal wellbeing approach, every inch of our EAP service is tailored to your people and your business.
And the best part? Research shows that large organisations like yours see a return on investment of over 1000% for every Euro spent with Bright Wellbeing & Counselling—so it's a no brainer!
Great value proposition without the fluff
I use BrightHR software for people management in my business, and it's a total game-changer. BrightHR software has made our staff management and HR so simple, straightforward and stress-free at a really challenging time for the business. I couldn't recommend it more, it's cracking!
Andy Reid MBE
Armed Forces Veteran and Business Owner
Transform your business today with BrightHR