Enjoy unlimited HR document storage
With our cloud-based system, you can keep all your important documents at your fingertips
Enjoy unlimited document storage
Confirm key updates with alerts and read receipts
View important documents any time, anywhere
Keep your confidential information secure
Join 100,000+ global businesses that trust BrightHR






Create and share expert HR documents with your team
The modern workplace has outgrown old filing cabinets. Welcome to the future of document management with our unlimited HR document storage feature. It's cloud-based and secure, so your confidential information is safe.
Download expertly written HR document templates and customise them to your needs
Save time by uploading HR documents in bulk to our secure system
Share important documents with your staff and enable read receipts so you know they've seen it
Meet your legal record-keeping obligations by maintaining an archive of all your documents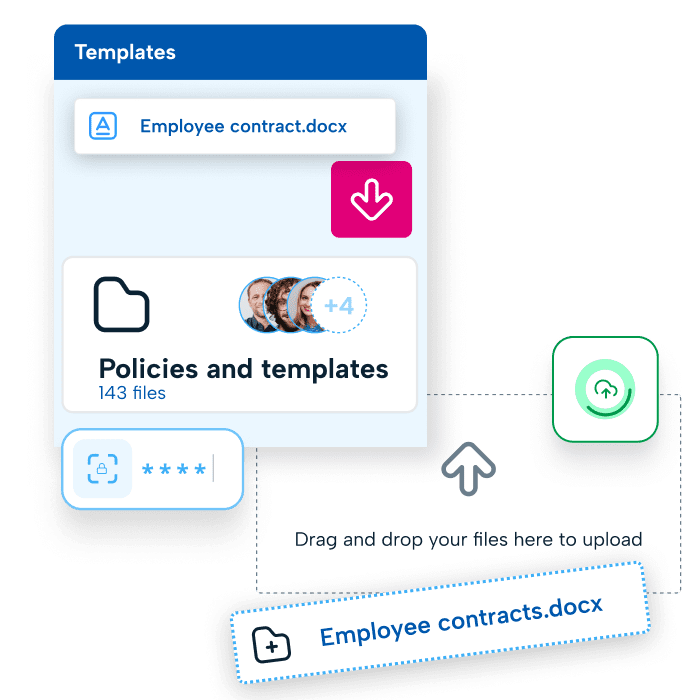 Digital document storage is the future
Each HR document, policy, and record serves a purpose that goes beyond taking up space on your desk or in your filing system.
Our unlimited HR document storage gets rid of the clutter, freeing you up to make the most of your documents. And feel that tension lift as you rest assured that your company's data is safe & secure and can be retrieved quickly and easily.
Check contracts and policies on the go, or upload and download the documents you need
Get notified about important dates and deadlines, so you can take the right actions at the right time
Free up your time by making staff responsible for updating their personal information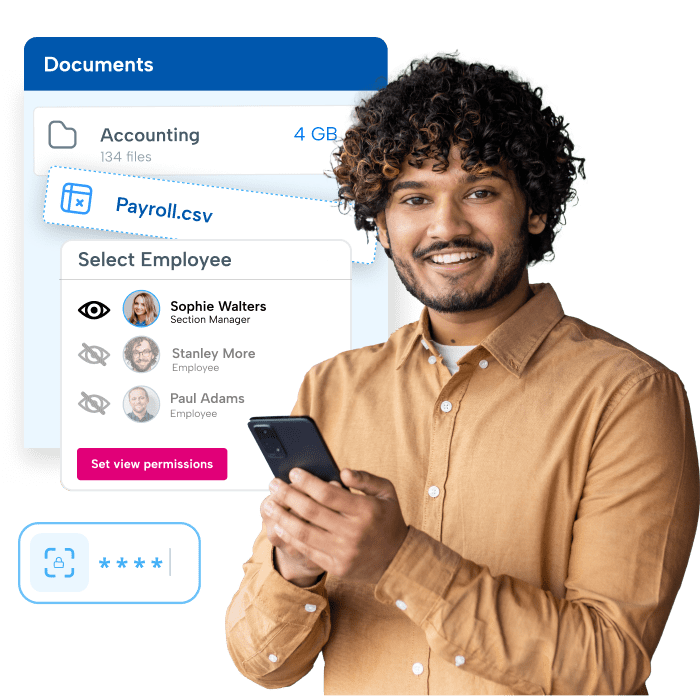 What our customers say about BrightHR
Using BrightHR makes us much more organised and centralises our processes, making it quicker for us to manage sickness and holidays.

BrightHR is a user-friendly system and the team are on hand to answer any questions we ever have. I would highly recommend BrightHR.
Deborah Gillespie @ Change, Recruitment Group

Our staff absolutely love using the system and the ease of booking holidays and clocking in using Blip. Customer service is amazing...
Steven Greenall @ Cornerstone Children's Home

Keep your entire HR filing system in your pocket with the BrightHR app
Following up on that impending deadline? Cross-referencing an employment contract? On the way to an important meeting and want to make sure you're getting your information right? All you need to do is reach for your phone.
The free BrightHR app, on iOS and Android, gives you access to your entire HR document filing system and archive.
Upload documents from anywhere on the BrightHR app
Access confidential information with our secure, cloud-based storage
Meet all your record-keeping obligations with unlimited digital storage
See what you can do with BrightHR's document management tools
Seeing is believing, and you'll need to see our HR document storage space for yourself to explore all the ways it lets you safely store, access, manage, and tick off your to-do list.
You can also see how our software lets you meet your specific business needs by booking a free demo with our experts.
Discover what more BrightHR has to offer
Interested in BrightHR? See it in action
Dive into our award-winning software and see our range of people management tools for yourself
Ready to get started?
Get in touch and discover how BrightHR can revolutionise your people management today