Have you ever wondered what drives your business or organisation? What gets your team out of bed in the morning and keeps them inspired day after day? Chances are it comes down to a great mission statement and purpose.
A mission statement is your reason for being - it captures what you do, who you do it for, and the benefit or impact. A mission statement is more than just words on a page, it's the beating heart of your company spirit and the central pillar to your company's success.
Without a good mission statement, your business lacks direction and motivation. Your team won't have a shared understanding of priorities and goals. And your target audience won't fully grasp why they should choose you over the competition.
But crafting mission statements is harder than it seems. Your mission statement needs to be authentic yet aspirational, broad yet focused.
If done right, your mission statement can guide business decisions, rally your team, enable economic growth, and attract ideal customers.
But what makes a good mission statement? How do you go about writing a mission statement for your business? Let's take a look at:
What a mission statement is

Why you need a mission statement

How to develop a mission statement that sparks action

The difference between a mission statement and a vision statement

10 mission statement examples from around the globe
The time you invest in clarifying your mission statement and purpose will pay off in the long run. Your company's mission statement is too important to be an afterthought—your mission statement deserves to take centre stage.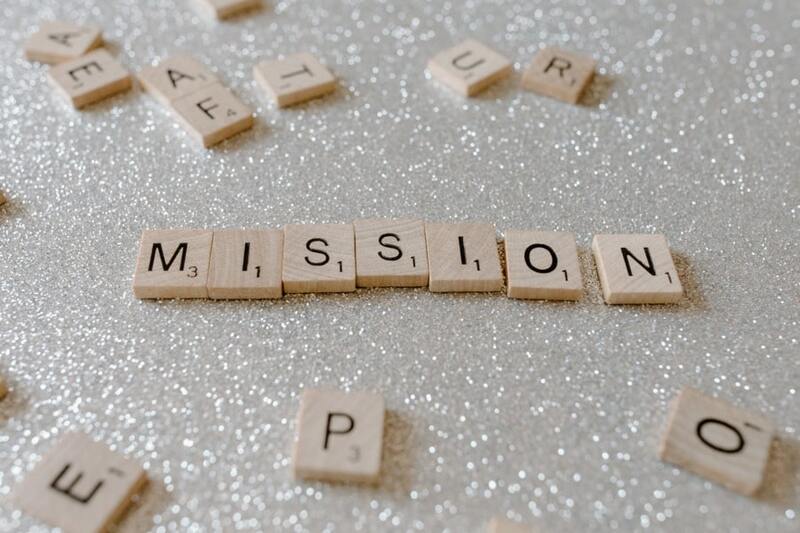 What exactly is a mission statement?
Most mission statements describe a company's purpose, clearly and concisely. It tells the world why your organisation exists and what you're all about.
A mission statement outlines your goals, values, and key objectives. Things like:
Who do you serve—Your target audience or your customers?

What value do you provide—The key benefits and solutions you offer

How do you work—Your business philosophies or core values?
It's usually just a sentence or short paragraph, but it guides all your decision-making and keeps you focused.
A great mission statement inspires employees and gives them a sense of meaning or impact. It also helps attract customers and partners that share your values.
Why you need a strong mission statement
A strong mission statement is essential for successful companies. Here are a few reasons why:
A mission statement gives employees a sense of purpose
When staff understand the core values and objectives of the business services, they feel more engaged in their work. They know the "why" behind what they do each day and how their role contributes to the overarching vision.
A mission statement keeps everyone on the same page
A good mission statement allows managers, employees, partners, and customers to understand the company's primary goals and values. This consistency and alignment mean less confusion and more productivity.
A mission statement guides decision-making
With a mission statement to refer to, choices become easier. New opportunities can be evaluated based on whether or not they align with your mission statement. It helps determine the best path forward.
A mission statement attracts top talent
The best employees want to work for companies with solid mission statements and core values. Your mission statement communicates your organisation's purpose and priorities to prospective staff.
A mission statement builds trust
When you have a thoughtful mission statement and operate with transparency, you establish credibility. People can see your values in action, which creates goodwill and loyalty among your customers, employees, and community.
A mission statement can make your business stand out
Having a visible mission statement can give you a competitive edge over your competitors. So, make sure your mission statement stands out.
A well crafted mission statement gives your company direction and focus. It's worth investing the time to develop a mission and vision that inspires and motivates your team to deliver. Your mission statement could be the most important document you create for your business.
Key components of an effective mission statement
An effective mission statement articulates why your business exists and what it aims to achieve. It captures your core purpose and values in a few compelling words. As you write a mission statement, focus on these key components:
Your mission statement should capture the essence of your company's vision and values. It should articulate why your work matters and the fundamental purpose of your business. A good perspective provides inspiration and guidance for your team.
An effective mission statement conveys your company's core values and priorities to your customers, employees, and stakeholders. It highlights the key principles that shape your culture and products. Your mission should focus on serving your customers and community, not making money. Money is a result of living out an inspiring mission statement.
An impactful mission statement taps into emotions and passion. It should inspire and energize your audience. Use dynamic and emotive language to convey the heart of your company's purpose and values. Connect your work to meaningful impacts and outcomes.
Your mission statement should articulate your company's enduring purpose—the reason for its existence that transcends any single product or business strategy. It should capture aspirations and values that will guide your business for years to come, even as products and strategies evolve. An enduring mission statement stands the test of time.
Revisit your mission statement regularly to ensure it continues to reflect your purpose and priorities. Make revisions as needed to keep it relevant but avoid changing it too frequently.
By including these key components, you'll craft a mission statement that stimulates your team, focuses on business decisions, and forges a strong connection with your customers. Your mission statement serves as an eternal North Star, lighting the path to purpose and impact.
How to write your company's mission statement
As we've discussed a mission statement describes your purpose and primary objectives. It's a short but compelling statement. If you follow the guidelines below you will be well on your way to a good mission statement.
Your mission statement should be clear and concise, no more than 100 words. However, the shorter the better. It should be short enough to remember but substantial enough to be meaningful. Focus on the essentials—what you do, who you do it for, and what makes you unique.
Clearly state the entire company purpose of your business in one sentence. Express why your business exists and the key goals or problems you aim to address. Think about why your company exists, who benefits and how?
Include 2-3 sentences highlighting your company's core values and priorities. Your values shape your company culture and brand. What principles guide your work and interactions? Things like excellence, integrity and innovation.
Have a competitive advantage
Remember that you aren't the only company that does what you do, and it can be a competitive world out there. So, what makes you unique? What can you offer that others can't?
Your mission statement should motivate and inspire both employees and customers. Use an active voice and emphasise meaningful words to craft an inspirational message. What is your long-term goal or aspiration? What will success look like?
Keep your mission statement short, simple, and straightforward. Your mission statement should be easy to understand and remember. Use common language and avoid industry jargon to make sure your mission statement is clear and compelling.
Once you have a drafted mission statement, review and refine it to ensure it's compelling and memorable. Get feedback from employees, managers, and even customers. Revise as needed and once finalised, share your mission statement internally and externally on your website, marketing materials, employee handbooks, and more.
Your mission statement is meant to guide your company's strategic decisions and daily operations, so make it count!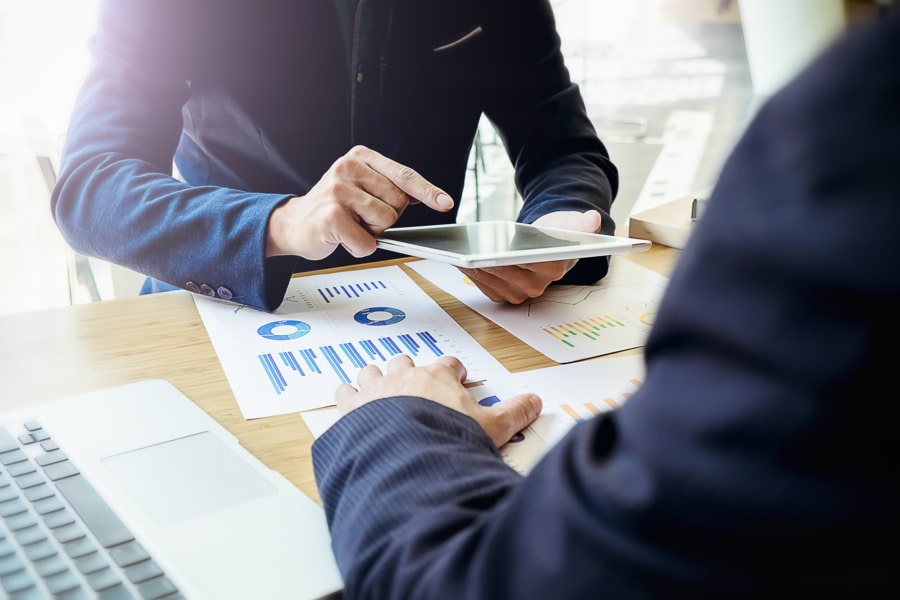 5 top tips for a great mission statement
The best mission statements are authentic and speak to the core values of your company. Here are important tips to remember when you write your personal mission statement:
Gather input from employees at all levels
By using the collaborative brains of your own employees, you will produce a mission statement that resonates.
Use action-oriented language
Words like empower, inspire, transform, and connect resonate with people.
Keep your mission statement short and memorable
A mission statement should be easy to understand and recall.
Share and celebrate your mission
Post it, publish it, and highlight how team members are living your mission statement. Make it a living mission statement, not just words on a wall. Show the world your company spirit and make your company stand out.
Don't confuse mission and vision statements
Mission statements and vision statements are closely related and can be easily mixed up. So, it's important to know the difference between mission and vision statements.
The difference between mission statements and vision statements
While mission and vision statements differ in scope, they are complementary. Both are essential for guiding strategic planning and keeping the company focused on what really matters.
The vision statement is the dream, and the mission statement is the plan to achieve that dream. The vision statement inspires, while the mission statement stimulates the organisation.
A mission statement focuses on the present
A good mission statement defines the business purpose and primary objectives. It outlines why the organisation exists and what it aims to accomplish. Mission statements are:
Present-focused: They define the current business scope and priorities.

Practical: They outline tangible goals and ways of operating.

Action-oriented: They guide decision-making and resource allocation.
For instance, Disney's mission statement is "To be one of the world's leading producers and providers of entertainment and information. Using our portfolio of brands to differentiate our content, services and consumer products, we seek to develop the most creative, innovative and profitable entertainment experiences and related products in the world." This mission statement reflects Disney's core business objectives and values.
A vision statement looks to the future
A good vision statement describes where the aspirations for your company's future. It paints an idealistic picture of what the organization could achieve if everything goes as planned. Vision statements are:
Forward-looking: They describe the desired future state of the organisation.

Ambitious: They stretch the company to achieve more.

Inspiring: They motivate and excite employees and stakeholders.
For example, Disney's vision statement is "To make people happy." This simple but powerful vision has guided Disney for decades.
Reviewing and revising vision and mission statements periodically is important to keep them relevant as internal and external conditions change. The key is finding the right balance of constancy of purpose and adaptability.
With a compelling vision statement and well-defined mission statement in place, your business has a solid foundation for success and a template for making decisions that will advance its progress.
Learn more about mission and vision statements here.
10 mission statement examples
Many of world's professionals and global companies have inspiring mission statements that motivate their teams and connect with their audiences. Here are some great company mission statement examples, long and short:
"Organize the world's information and make it universally accessible and useful."
"To bring inspiration and innovation to every athlete* in the world. *If you have a body, you are an athlete."
Starbucks mission statement
"To inspire and nurture the human spirit — one person, one cup, and one neighborhood at a time"
Patagonia mission statement
"Build the best product, cause no unnecessary harm, use business to inspire and implement solutions to the environmental crisis."
"To create a better everyday life for the many people – to offer a wide range of well-designed, functional home furnishing products at prices so low that as many people as possible will be able to afford them."
"To create the most compelling car company of the 21st century by driving the world's transition to electric vehicles."
"We aim to be Earth's most customer centric company. Our mission is to continually raise the bar of the customer experience by using the internet and technology to help consumers find, discover and buy anything, and empower businesses and content creators to maximise their success."
Caterpillar Inc's mission statement
"To enable economic growth through infrastructure and energy development, and to provide solutions that support communities and protect the planet."
Southwest Airlines' mission statement
"The mission of Southwest Airlines is dedication to the highest quality of customer service delivered with a sense of warmth, friendliness, individual pride, and company spirit."
Walmart mission statement
"We save people money so they can live better."
These company mission statement examples express the essence of their respective company's services, purposes, and core values in a few impactful words. And are perfect examples of mission statements that serve as a powerful source of direction for the present, propelling the company towards its vision for the future.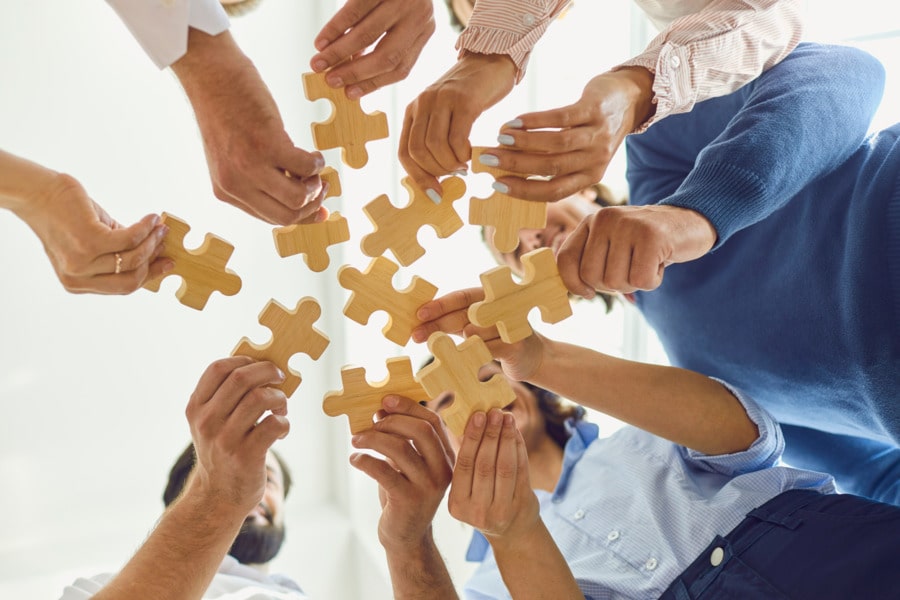 An overview of mission statements
When running a business, it's important to have a mission statement. Your mission statement will help you stay focused on your goals and gives everyone involved a sense of direction.
Don't confuse it with your vision statement. Make sure your mission statement is about the now and make sure your vision statement is about the future.
To make a killer mission statement, get together with your leadership team and think about what your company stands for, who your customers are, and what success looks like to you.
Once you've got a few drafts, share them with your employees and customers to get their feedback. Keep tweaking it until you've got something that really inspires and guides your team for years to come.
Take the time to do it right. Think big picture. Dream a little. It's worth investing in. Who knows, someday that little mission statement might be printed on the wall of your first headquarters. But even if not, a clear mission and purpose will make the journey that much more meaningful and impactful.