Don't waste time with old-fashioned clocking systems
Bring your clocking processes bang up to date with Blip—the exclusive mobile app.
Already a customer?

Start here

.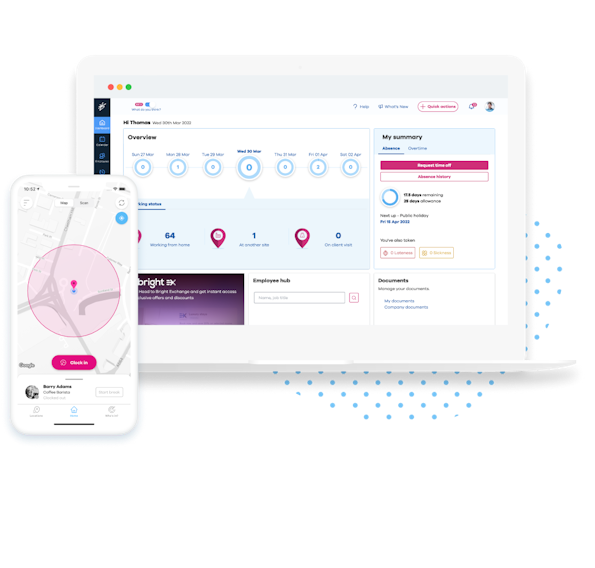 Bring your clocking in system into the 21st century
We get it. You're a busy business owner, you can't be recording staff hours with old-school systems, piles of paper, and getting your people to punch the employee time clock like it's the 1980s…
It's why you need Blip. It's the modern time tracking app that lets your staff clock in and out of work using just their mobile phones, so you can see who's working and where at the tap of a button.
And with the chore of logging work hours passed over to your people, your time is freed up to do what you do best—running your business.
Want a sneak peek at our exclusive clocking in and out app? Click play to see how Blip makes managing staff hours simple.
Did you know there have been
+
global clock-ins using Blip!
Here's how your new favourite clocking in app works…
There are two ways to use Blip's employee time-tracking app, and you decide which one is right for you:
Set up geolocations with ease
Set up a geofence (a virtual boundary) around your workplace either on web or the app. When your employees enter or leave the geofence, the app's GPS picks up their location and prompts them to clock in or out with the app—clever, huh?
And remember, a workplace can be anywhere. So staff can use Blip even if they're working from home, giving you peace of mind that you always know where and when your people are working.
You can also use Blip to generate a QR code to print off for your workplace. Staff scan the code when they start and finish work, or go on a break, and the simple time-tracking app records their work hours and location. Simple.
How your clocking in and out app keeps you in line with the law
You might trust your team—but you can't just take their word when it comes to working hours…
Because the Working Time Regulations require employers to keep official records. So if you're ever asked for it, you can provide evidence of staff hours, breaks and overtime.
But don't fret—Blip has your back. Our nifty clocking in app for UK employers helps you protect your people and your business by letting you:
Log core working hours and locations.

Make sure staff are taking enough breaks.

Record all overtime.

Export and save work history for an individual employee or your whole team.
Download Blip for free
Already a BrightHR customer? Blip is yours for free! It only takes a minute to download and get set up, and our step-by-step guide shows you how easy it is to use your online clock-in system for employees.
Not a BrightHR customer yet?
No worries! One of our friendly experts can show you Blip in action, PLUS you get a whole load of other smart HR software with it, too. Book in your free demo today.
See the Blip clocking in and out app and start managing your staff hours the modern way.