As an employer, you have a responsibility to your workers to keep them safe at all times. This means carrying out risk assessments, creating a safe working environment, and the inclusion of a safety sign where required.
As per the regulations, ensuring health & safety signs are in the correct areas is a legal requirement - failure to do so can lead to prosecution with heavy fines to pay. And more importantly, you're gambling with your employee's health.
In this guide, we'll discuss what a safety sign is, what each colour means, and where they should be situated in your company.
Why Are Health & Safety Signs Important?
Health & safety signs are extremely important for keeping employees, employers and customers safe.
Safety signs and signals make people on site aware of any potential dangers and can send a clear message through just a picture.
They are a highly effective way of controlling the risk of accidents taking place and lessening the likelihood of an accident or a fire taking place.
As an employer, you have a duty to keep everyone safe, and a sign is one of the best ways in doing so.
Are Health & Safety Signs a Legal Requirement in the UK?
Under the Health and Safety (Safety Signs and Signals) Regulations 1996, employers are required to put up signage.
The regulations state what type of safety sign should be installed and in what type of area. So, it's crucial you understand which ones you should have around your workplace.
What Colour Does a Safety Sign Need to be?
What colour a sign needs to be, depends entirely on the type of hazard or the risk posed in the certain area.
Let's discover the sort of signs you're required to have in your business as part of the Signs and Signals Regulations.
What Do the Different Types of Health & Safety Signs Mean?
In order to keep your employees safe, it's crucial you fully understand the different types of signage that you must put up.
Once you understand the meaning of each safety sign, you can make sure you lower the chance of accidents in the workplace.
Prohibition Signs
Prohibition signage are signs prohibiting a behaviour in a certain area that's likely to increase the risk of danger.
Prohibition signs should be used to tell people to not do something and are typically made up of a red circle with a red diagonal line through the middle in front of a white background.
Examples of When to Use Prohibition Signage
Common examples of when prohibition signs should be used in your workplace are as follows:
No unauthorised people can enter a certain area.
No entry.
No smoking is allowed in this area.
No parking allowed.
Do not operate a certain piece of equipment.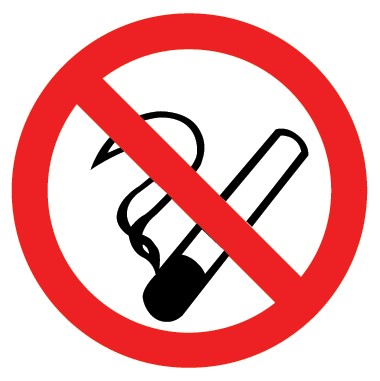 Mandatory Signs
Mandatory signs are used to tell an employee to do something, for example, personal protective equipment must be worn.
These signs are used to comply with any assessments done through your workplace, for example, a part of a construction site where hard hats must be worn.
Mandatory signs consist of a circle with a blue circle, blue background and an image in the middle.
Examples of Mandatory Signs
Common examples of when mandatory signs should be used in your company are:
Face masks or ear protection must be worn.
The fire door must be closed at all times.
Pedestrians only.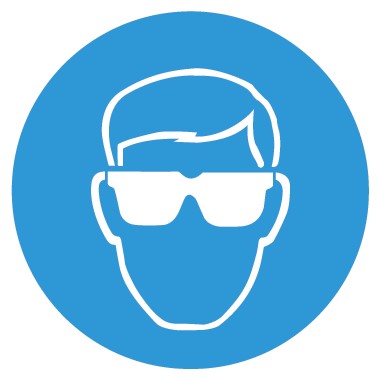 Hazard Warning Signs
Warning signs are used to warn people of hazards or danger in a certain area, such as flammable liquids.
These signs are used to protect your staff from dangerous substances and to be aware of the potential hazards surrounding them.
Warning signs consist of a yellow triangle, with the hazard it's warning of in the middle in black.
Yellow is seen as an effective and essential colour to grab people's attention and protect them from potential danger.
Examples of Warning Signs
Common examples of when you should use a warning sign in your workplace are as follows:
Warning high voltage.
Beware of the fragile roof.
Caution floor is slippery.
Mind the step.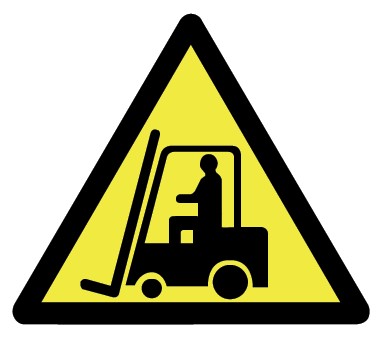 Emergency or Safe Condition Signs
Emergency or safe condition signs are typically used to point people in the direction of safety. For example, pointing someone in the direction of a fire exit or pointing to the first aid equipment to help the first aiders.
You must make these signs as clear as possible, as time is of the essence for your first aiders in an emergency.
These are green signs, with a white image in the middle showing a clear message.
Examples of Safe Condition Signs
You should use emergency signs for the following:
To signal an emergency escape or to signal that first aid is available.
To signal a fire escape.
To signal an assembly point during a fire.
To signal push bar to open.
To signal emergency stop.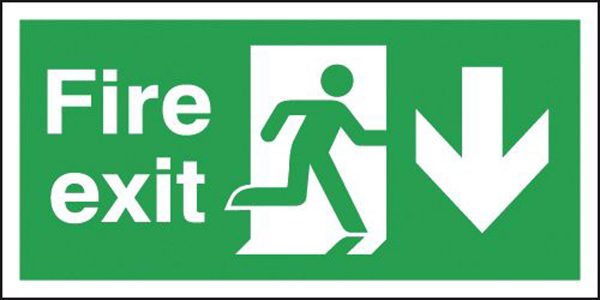 Fire Safety Signs
Fire equipment signs have one main purpose, to point people in the direction of fire safety equipment - such as fire extinguishers.
Fire equipment signs are usually in a red rectangle, with a white picture in the middle stating wording surrounding fire safety.
Examples of Fire Safety Signs
The following are common examples of when fire safety signs should be used:
Showing where a fire extinguisher is.
Showing where the fire door is.
Showing where the fire alarm control panel and call point are.
Showing the message "for fire use only".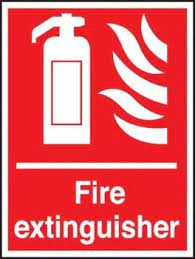 Harmful Substances Signs
This form of safety sign is in place to warn people of the danger surrounding substances hazardous to health.
These signs typically consist of a white diamond with a red outline with a picture in the middle.
The picture helps to show the substance which is being used might be a danger to health if not managed correctly.
Examples of a Harmful Substances Sign
The following are the different types of hazards where you should use these information signs:
Explosives.
Flammables.
Corrosive.
Acute toxicity.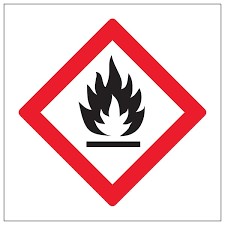 Who Enforces Health & Safety Signs in the UK?
In the UK, the Health and Safety Executive ensures that safety sign regulations are enforced. Their main aim is the safety of all workers in your business.
If you breach the strict health and safety regulations they put in place - you can find yourself with a large fine to pay.
More information on the Health and Safety Executive can be found on their website.
Get Help with Health and Safety Signs With BrightHR
As an employer, you have a duty of care to keep your staff safe. The use of signs can go a long way in doing this, for example, prohibition signs.
You have a responsibility to ensure you have the correct sign in place in line with the safety signs and signals regulations.
This includes all industries, such as construction sites - where the use of hard hats is required.
If these are neglected or an employee suffers from an accident, or medical care, you could face heavy fines to pay.
BrightHR can help you manage health and safety with our BrightAdvice helpline. Don't hesitate to call us if you need any help with health & safety signs in your workplace.
Book a free demo today or give us a call on 0800 783 2806.