Stress-free shift & rota planning for any working pattern
Make schedules, record time & attendance and fill vacant shifts with our open shifts feature
Create work schedules at the click of a button
Get instant alerts and notifications
Fill vacant shifts instantly with our open shifts feature
Copy, duplicate, and assign shifts in minutes
Join 100,000+ global businesses that trust BrightHR






Powerful online staff rota software—kept simple
Still creating rotas by hand? Complicated spreadsheets? You just need BrightHR. Our smart rota planner makes it quick and easy to create rotas, add shifts, and assign staff in minutes.
Create rotas in a simple table layout and instantly notify your team
Copy shifts, duplicate rotas, and assign shifts across multiple days and employees—all in a few clicks
Decide which staff can accept or decline shifts to give your team ultimate flexibility
Use the filters to easily find and edit someone's shift, and inform them of changes instantly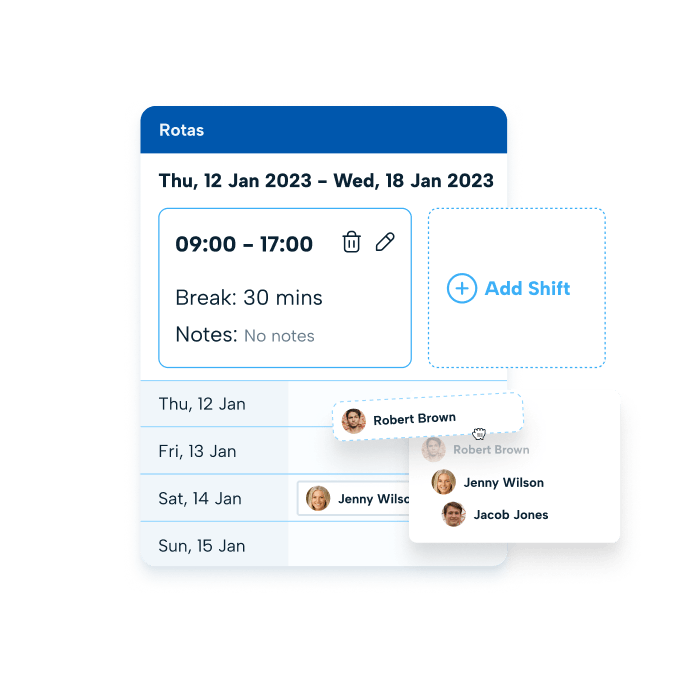 Never have a shift unfilled with OPEN SHIFTS
Welcome to a brand-new era of rota planning and shift scheduling! Our Open Shifts feature takes away the stress of dropped shifts and last-minute no-shows
Employers can release unfilled shifts for your staff to opt-in for
Staff get real-time alerts when a shift opens up, so they never miss out
Give staff the option of picking up extra shifts without adding pressure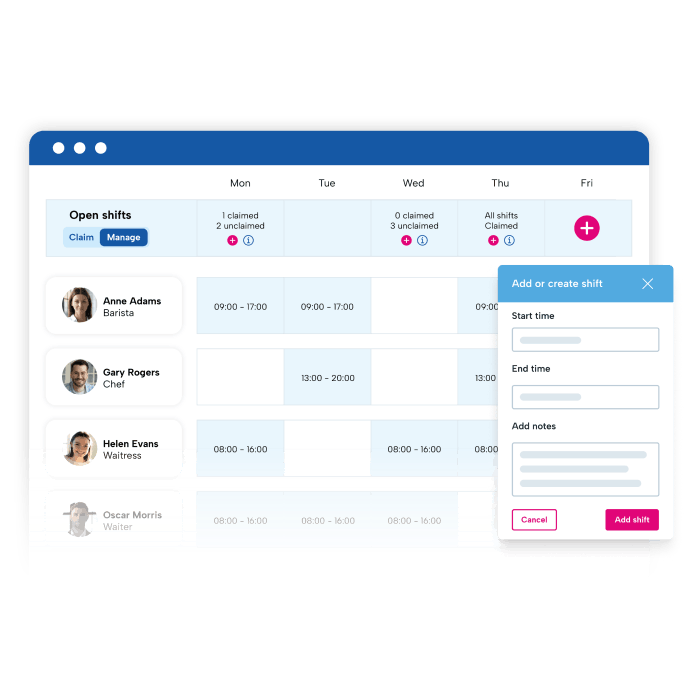 What our customers say about BrightHR
Using BrightHR makes us much more organised and centralises our processes, making it quicker for us to manage sickness and holidays.

BrightHR is a user-friendly system and the team are on hand to answer any questions we ever have. I would highly recommend BrightHR.
Deborah Gillespie @ Change, Recruitment Group

Our staff absolutely love using the system and the ease of booking holidays and clocking in using Blip. Customer service is amazing...
Steven Greenall @ Cornerstone Children's Home

Always on the go? Use the smart BrightHR rota app
Running a business often involves a lot of running around—so you need rota software that lets you manage your staff shifts on the move. That's why BrightHR's free app (on iOS and Android) lets you easily manage everybody's shifts from your smartphone.
Manage and edit your entire staff schedule at any time
Accept or decline time off requests that your staff submit on the app
Send instant notifications of open shifts, so your staff can pick them up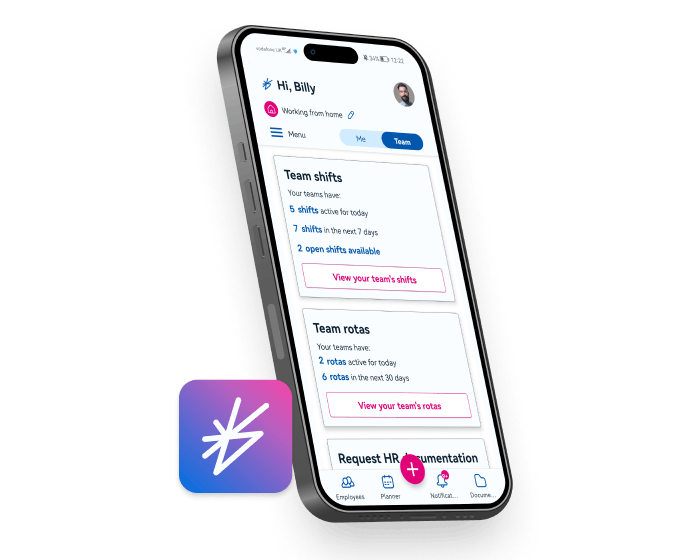 See BrightHR's shift scheduling software in action
Discover just how easy it is to make the most of our shift and rota planner in our quick video demo.
Or book your personal demo for an obligation-free tour of all the rota-planning tools that make your daily admin tasks more seamless than ever.
Discover what more BrightHR has to offer
Interested in BrightHR? See it in action
Dive into our award-winning software and see our range of people management tools for yourself
A Guide to HR Software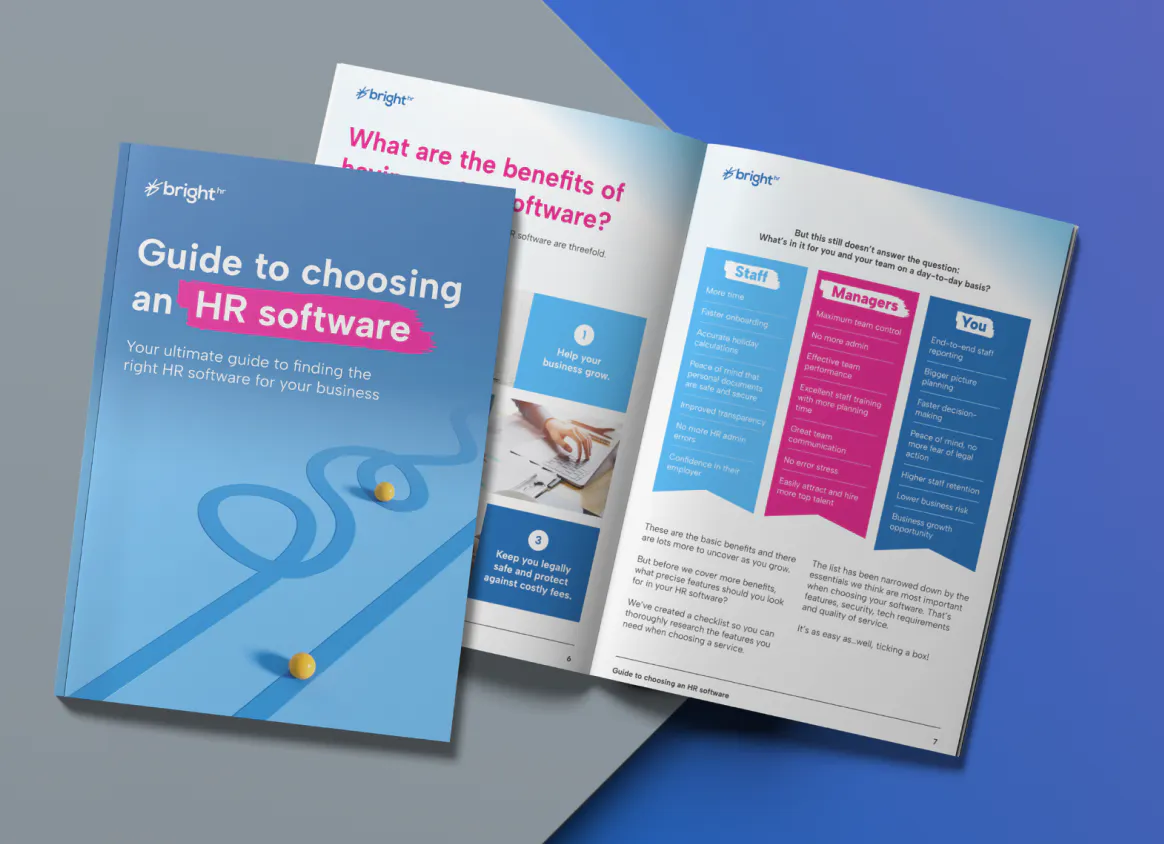 Reports
Thursday, Aug 17, 2023
Your guide to choosing the right HR software
The right HR software can become the backbone of your business. But there's lots to consider when choosing your provider.
From a handy checklist of the features you need to look for, to the risks that software can help you avoid, our Guide to HR Software covers it all.
Ready to get started?
Get in touch and discover how BrightHR can revolutionise your people management today