Track staff absence and lateness with ease
Employees off sick? Log absences in seconds with our attendance and absence management software
See who's off with a calendar view by team
Record absence by type and generate reports
Get instant notifications for appointment requests
Fill vacant shifts instantly with our open shifts feature
Join 100,000+ global businesses that trust BrightHR






Keep on top of your sick leave and absences
You can't predict when employees get sick or when trains may run late. But with BrightHR on your side, you don't need a crystal ball to stay organised!
Doctor's appointments? Maternity or paternity leave? Time off for dependants? You can see it all at a glance with BrightHR.
Log all common absences—not just sickness and lateness—in one place
Upload documents, pictures, and forms for absence requests
Enable notifications to make sure you never miss key dates and meetings
See who's available to cover shifts and update management in real-time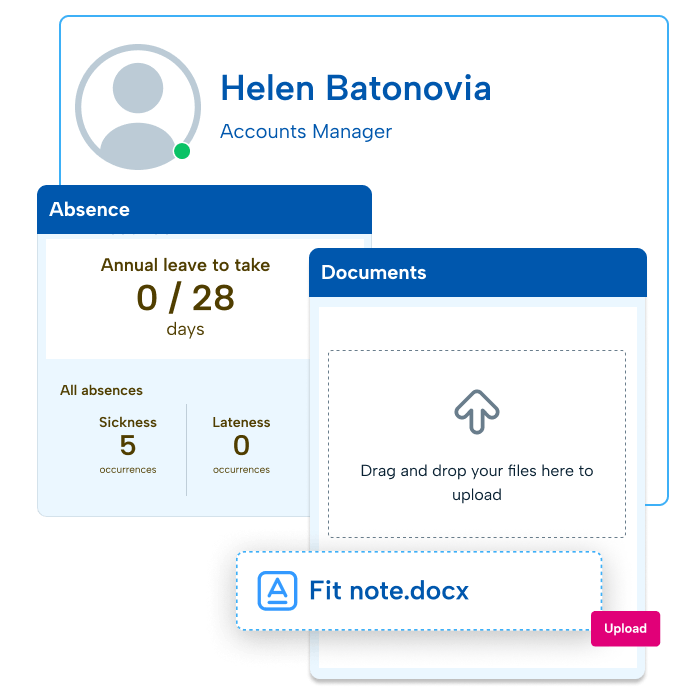 Make absence management simple
Sure, everyone can get sick and need some time off work—and you're a good boss, you understand that. But it can become a real HR headache to keep track of your team's attendance if you're still slumming it with a lousy spreadsheet…
Use the sickness reporting tool to download and track absence trends
Remove HR risks with software that accounts for absence laws
Keep an eye on regular lateness with secure attendance records
Support employees dealing with absence due to personal challenges with a leading EAP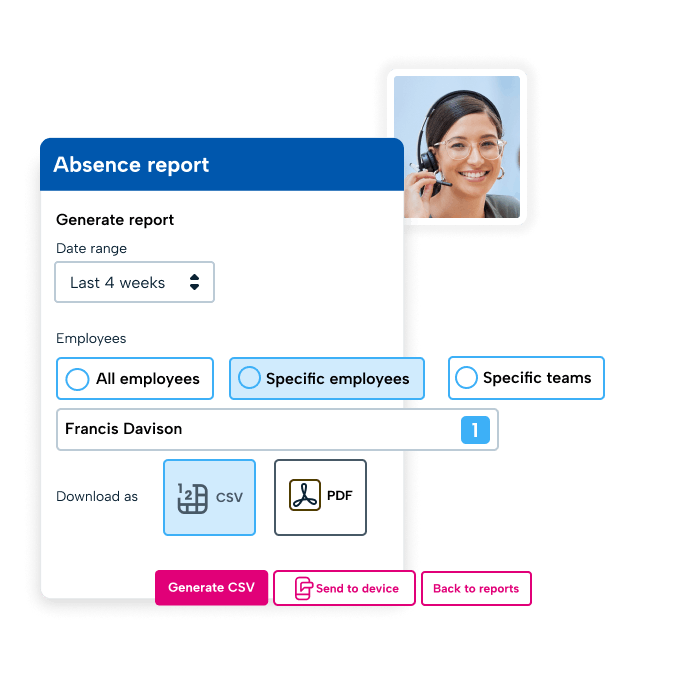 What our customers say about BrightHR
Using BrightHR makes us much more organised and centralises our processes, making it quicker for us to manage sickness and holidays.

BrightHR is a user-friendly system and the team are on hand to answer any questions we ever have. I would highly recommend BrightHR.
Deborah Gillespie @ Change, Recruitment Group

Our staff absolutely love using the system and the ease of booking holidays and clocking in using Blip. Customer service is amazing...
Steven Greenall @ Cornerstone Children's Home

Manage your employees on the go with the BrightHR app
Our mobile app makes it even easier to manage absences, wherever you are. Whether it's someone phoning in sick at the crack of dawn, arranging cover on your lunchbreak, or producing attendance reports in the evenings, our app keeps you fully in-touch with what's going on.
It lets:
Your employees snap and upload photo proof of their absence requests
You accept or decline absence requests as soon as they come in
Admins release open shifts and notify your staff instantly.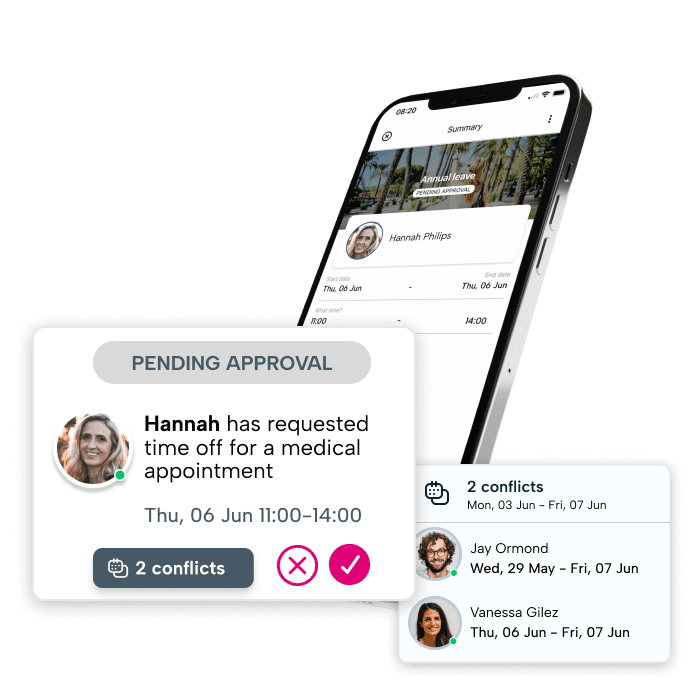 See BrightHR's absence management software in action
Watch our quick video demo for a sneak peek into how BrightHR software makes it easier than ever to manage staff absences, record who's on leave, and log lateness.
Want to see how the software can meet your business' needs? Book your demo today for an obligation-free tour of all the admin-busting tools that make people management a breeze.
Discover what more BrightHR has to offer
Ready to get started?
Get in touch and discover how BrightHR can revolutionise your business today.
A Guide to HR Software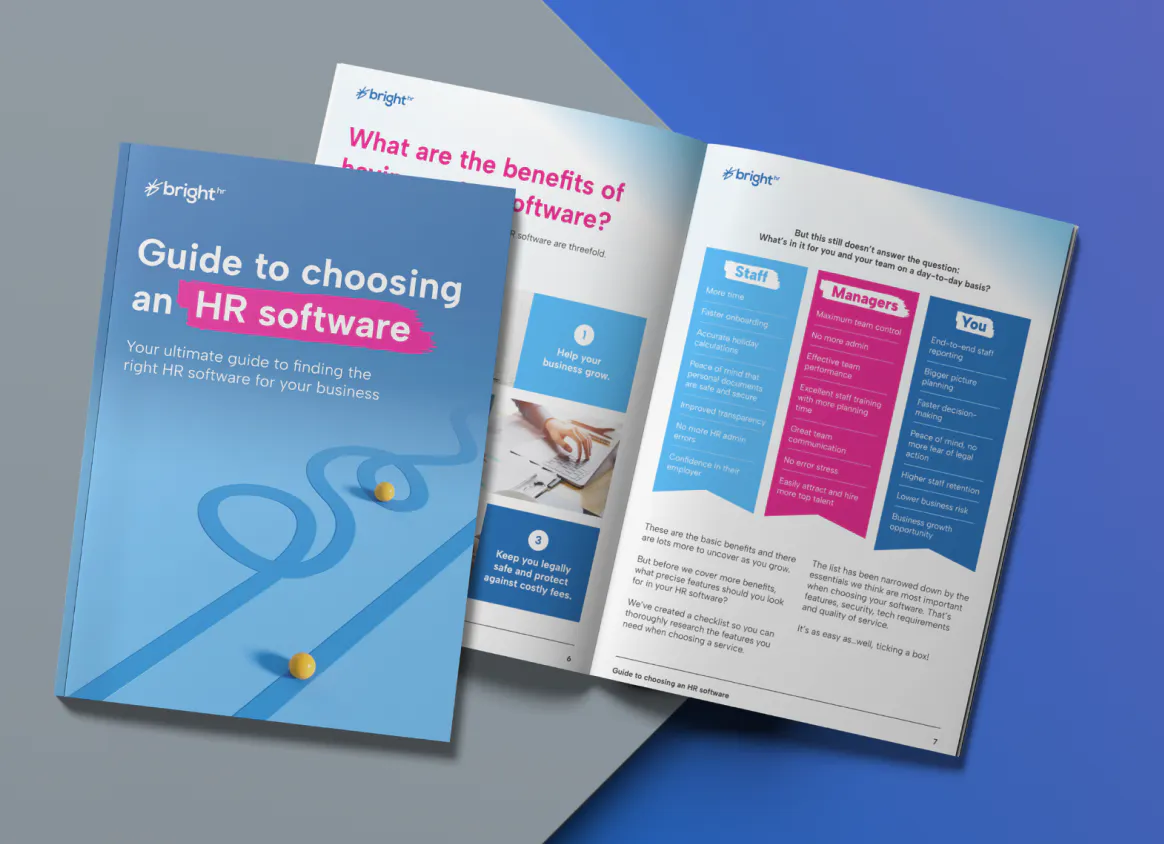 Reports
Thursday, Aug 17, 2023
Your guide to choosing the right HR software
The right HR software can become the backbone of your business. But there's lots to consider when choosing your provider.
From a handy checklist of the features you need to look for, to the risks that software can help you avoid, our Guide to HR Software covers it all.
Interested in BrightHR? See it in action
Explore our award-winning software and see our range of end-to-end people management tools for yourself.