Leave the paper trail behind with digital time tracking
Blip is our smart time-tracking app that makes clocking in and out easier than ever. With just a click, you can…
Know who's in, off, or on a break with real-time updates
Prompt forgetful staff to log their hours with auto-alerts
Enable remote working with secure geolocation tracking
Keep payroll accurate with downloadable timesheet reports
Join the businesses around the world that have racked up 30 million+ Blip clock-ins






Two easy ways to make clocking in a breeze
Geofence locations with virtual boundaries
Remote working no longer means being left in the dark when it comes to logging hours worked. A geofence serves as a virtual boundary that Blip's GPS picks up, prompting employees to clock in or out when they enter or leave the area.
QR code scanning
Generate a QR code with Blip, print it, and display it in your workplace.
So, the only decision you need to make is which one works for you and your teams.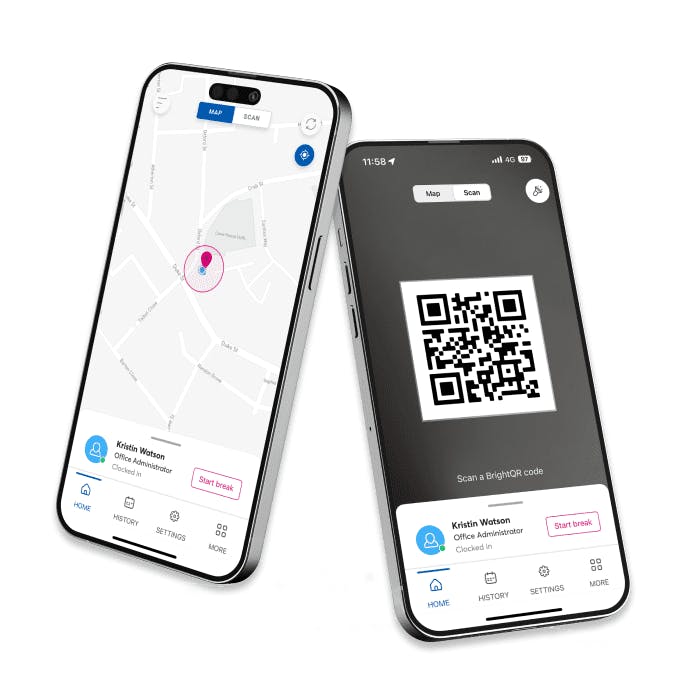 How Blip keeps you in line with the law
You might trust your team—but you can't just take their word when it comes to working hours…
Blip helps you keep official records of staff hours, breaks, and overtime to make sure you're meeting all Working Time Regulations. So, that's one app to help you:
Log core working hours and locations
Make sure staff are taking enough breaks
Record all staff overtime
Export and save work histories for your employees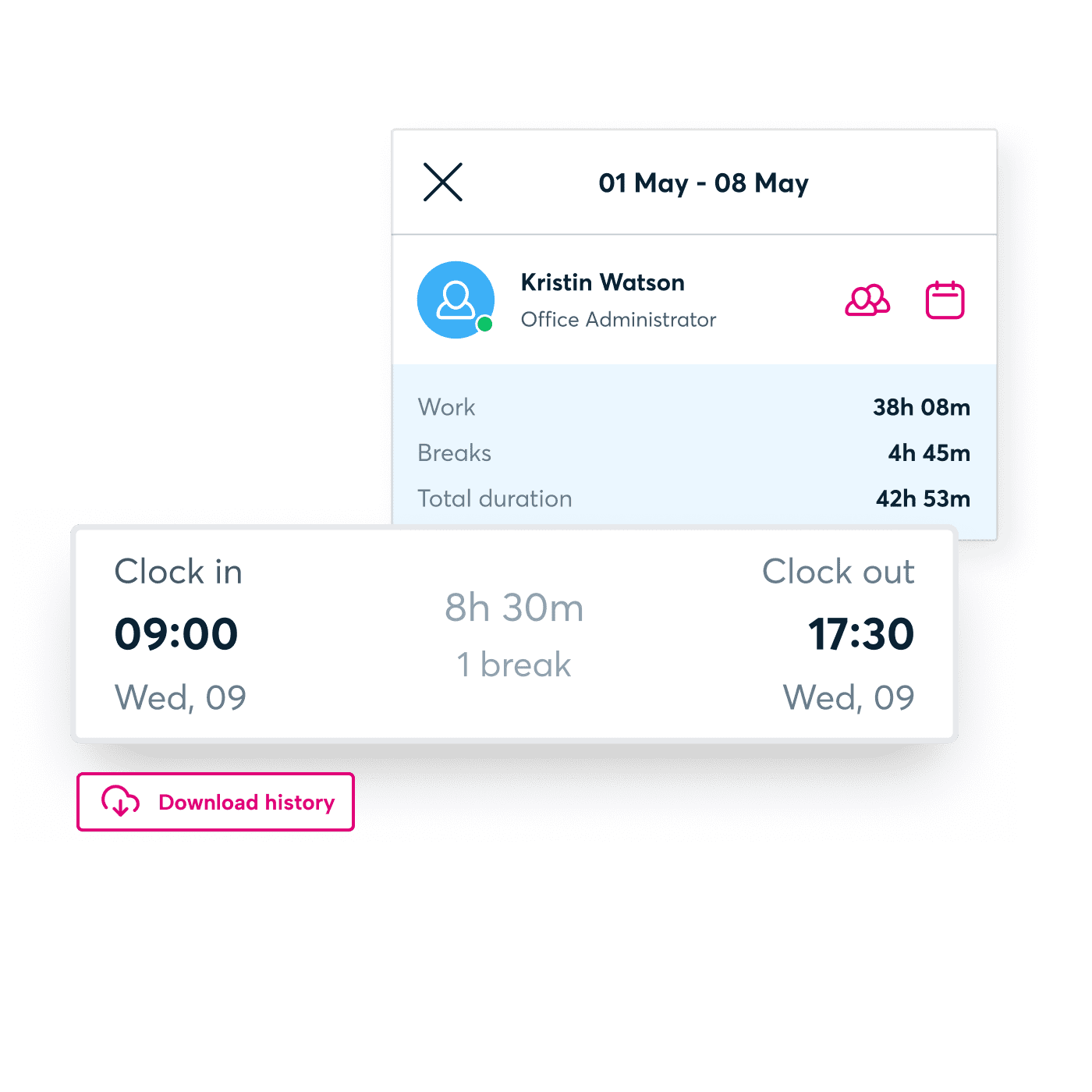 What our customers say about BrightHR
Using BrightHR makes us much more organised and centralises our processes, making it quicker for us to manage sickness and holidays.

BrightHR is a user-friendly system and the team are on hand to answer any questions we ever have. I would highly recommend BrightHR.
Deborah Gillespie @ Change, Recruitment Group

Our staff absolutely love using the system and the ease of booking holidays and clocking in using Blip. Customer service is amazing...
Steven Greenall @ Cornerstone Children's Home

Iron out the blips in your timesheets
As a business owner, you're already balancing so much on your plate. The last thing you need slowing you down is piles of paper and manual logs of your staff's working hours.
With Blip, the only thing your staff need to clock in or out is their mobile phone. And with just a glance at Blip, you can make sure you're meeting regulations and check who's available to work.
It's just that simple.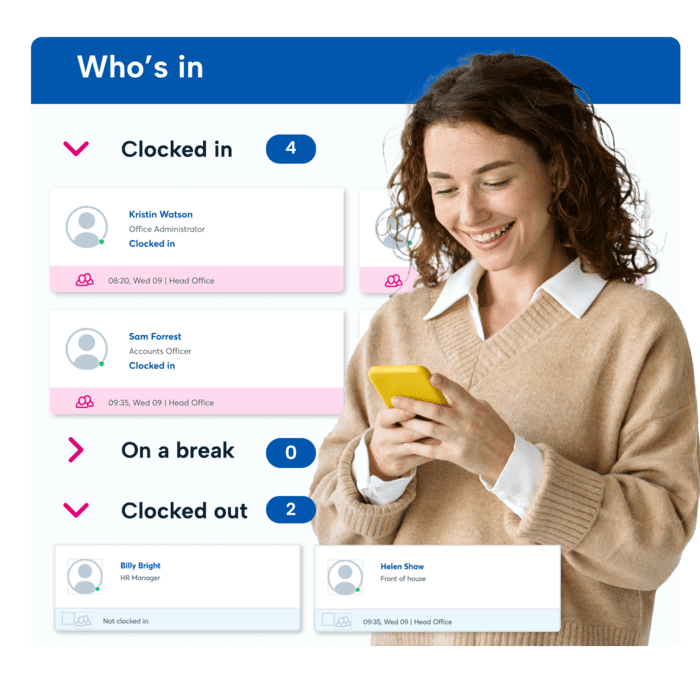 Time-tracking software
Our app helps you make sure time-tracking in your business takes no time at all.
Give your employees control and ownership over their own hours. And free up your time to do what you do best: building a better business.
See how it works in our quick video. Or take a personalised tour by booking a free demo with our software experts.
Explore what else BrightHR has to offer
Interested in BrightHR? See it in action
Dive into our award-winning software and see our range of people management tools for yourself
A Guide to HR Software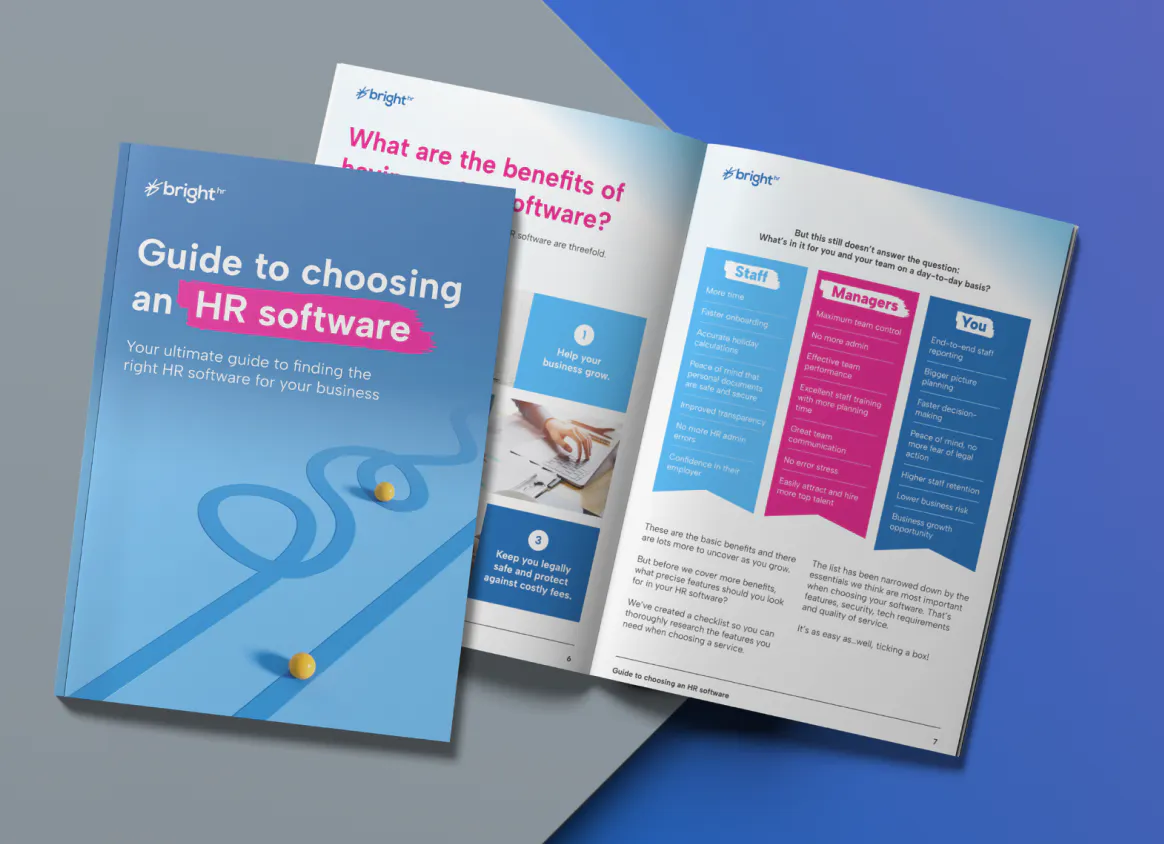 Reports
Thursday, Aug 17, 2023
Your guide to choosing the right HR software
The right HR software can become the backbone of your business. But there's lots to consider when choosing your provider.
From a handy checklist of the features you need to look for, to the risks that software can help you avoid, our Guide to HR Software covers it all.
Interested in BrightHR? See it in action
Explore our award-winning software and see our range of end-to-end people management tools for yourself.